Introducing Weitz-Wasserwelt
WEITZ-WASSERWELT is a company of the WEITZ GmbH group is over 100 years of history looks back. With over 100 years of history behind. Our motto is: WEITZ-WASSERWELT? - Cares for water self-sustain. Pond care, aquarium maintenance, water treatment and water care shape our core business.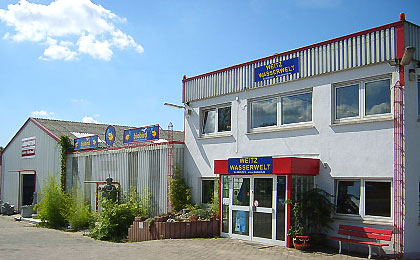 Innovative Water Care
WEITZ-WASSERWELT develops innovative, practice-oriented products and procedures for water care in own laboratories. In addition, we are constantly researching and developing new ideas and revolutionary techniques to make water care easier for you. For that purpose; we closely work with biology and limnology specialists. Consequently, we can always guarantee steady improvement as well as the consolidation and expansion of our excellent position on the market of water maintenance and water care.
Water Care with proven safety standards
For your safety we established of course highest safety standards to win the trust of thousands of customers. Therefore, all our pond, aquarium and water care products are regularly tested form independent, well known and trusted institutions (Fresenius, CYTOX, LGA, etc.). Of course, all production processes equipped with advanced manufacturing technologies are subject to strict quality controls. Only highest quality raw materials are processed. All these measures ensure that only goods of absolutely highest quality levels come into your hands.
Seriouness in water care
As a trusted company we care to label all our products in accordance with all statutory requirements. In developing our products we pay biggest attention to improve environmentally optimal solutions.
Your satisfaction is our aim
Only satisfied customers spread positive feedbacks in their entourage, consequently customers satisfaction is our utmost priority and the motor of our activities. Positive feedbacks are our best reward. Being close and hearing our clients is therefore very important for us, and well implemented in our company through mail, exhibition, telephone and individual contact.
On everyone`s lips
A well established information system that continuously reports about our brand quality products in magazines specialized in themes like pond care, aquarium maintenance, water care and water treatment promotes in best way recognition degree of our company and brands on the market. Yet a great part of our growth is due to positive direct recommendations of satisfied customers. A fact of which; we are particularly proud.
Permanent member of national and international trade fairs
To promote and enlarge our experience exchange, we are continuously present at national and international fairs. Knowledge gained in such events in the fields of pond, aquarium, water care and water treatment, are fully integrated in our developing process. In addition, these fairs give us the opportunity to professionally introduce and present new products and concepts to you. Significant international fairs on which you can find us are: INTERZOO, Nuremberg, Germany; GAFA, Cologne; DeZooFa, Wiesbaden, etc.